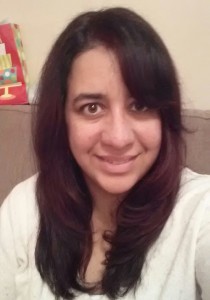 Hi! My name is Awilda, the gal behind Jinkies Parties! Welcome to my about me page! I'm glad you stopped by
How it all started… The very first event I planned was my wedding so many years ago! It was a very stressful and difficult time but I managed to have a lovely event with a small (make that tiny) budget. Over the years I've learned to create bigger and better things but still within a small budget.
After my wedding I've dabbled in celebrations for my family. Christenings, Bridal Showers, Baby Showers, Graduation Parties, Anniversaries and eventually Birthday Parties. That is where I found my passion for entertaining, crafting and all things pretty and fun. My children are my muses and through them I have created countless of fun and beautiful parties ranging from Princess to Mario parties to Superheros. I am also totally hooked on party supplies.  Although I'm an avid DIYer I also appreciate some pre-made elements in my events.  It can save time and money if done right!  I am totally hooked on parties and love love love to style parties for others as well. I decided to create this blog and online shop, jinkiesparties.com as a way to help others create awesome parties with small budgets. After all, who doesn't want an awesome party for their loved ones right?
When I'm not planning an event I can also be found working on my other passion Home Decor/Renovation.  Check out my personal blog www.hipncreative.wordpress.com for a behind the scenes look into my chaotic world of home remodeling, crafts, decorating and more!
I feel truly blessed to be doing what I love and I look forward to many many more years!
Thanks for taking the time to read my about me page. If you have any questions or would like to submit a party you've done, I'd love to hear about it. Just email me at awilda@jinkiesparties.com. I look forward to hearing from you.
~God Bless!
XXOO,
Awilda